Retreat Programs with the potential to awe, transform, and heal
The Christine Center welcomes everyone to come and participate in retreat programs with the potential to awe, transform, and heal. Learn new skills, discover ways to grow spiritually, experience new depths of understanding. If you're being nudged towards deeper meaning, step out of daily life for a few days to learn with others in a spirit of deep community support.
Our facilitators are experienced and skilled. Lots of wisdom is found here.
Please note: Schedule is subject to change.
To register, please call 715.267.7507 or email christinecenter@tds.net.
Retreat programs begin Friday evening after supper, usually at 7 p.m. and end Sunday morning after brunch, at 12 noon, unless otherwise noted.
Integrating Transpersonal Experiences into Your Life
August 5-7 (Wednesday-Friday)
With Carl Greer, PhD, PsyD
Tuition: sliding scale $100-$200, plus meals and lodging (tuition scholarships available)
Visit www.carlgreer.com and watch the video below and consider participating in this experiential program.
Presented by Carl Greer, clinical psychologist, Jungian analyst, and Shamanic practitioner.  He authored the book Change Your Story, Change Your Life: Using Shamanic and Jungian tools to achieve Personal Transformation. His book will be available at the Christine Center's bookstore.
In this retreat Carl offers both Jungian and Shamanic practices to focus on inner movement for personal transformation.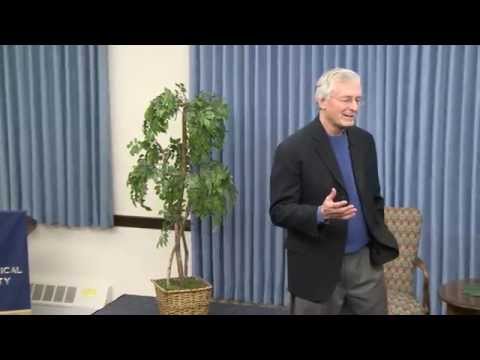 .
 

Spring Forest Qigong and the Labyrinth-Cancelled
The Compassionate Heart
August 21-23
With Henrita Frost, SSND and Johanna Seubert, FSPA, DMA
Tuition: sliding scale $75-$150, plus meals and lodging.
Discover the power of the human heart for compassion. Empowered by the practice of Loving Kindness Meditation allow yourself to engage in a journey with compassion. Sense it flowing from your experience of self-compassion and moving to embracing all beings and the environment with an all-inclusive loving kindness – omitting none, as we offer healing to the Global Community. Finally, we will take time together to weave compassionate actions. Surprise yourself with your capacity for love and compassion. Reflections about The Charter for Compassion, International will aid us as we journey with compassion.
Henrita is a gifted spiritual guide and delights in the experience of facilitating spiritual deepening experiences. Johanna's passion is the study and practice of mystical spirituality from many spiritual traditions. Both are members of the Christine Center Leadership Team. Read about them here.
3-Day ​Frequencies of Brilliance ​Retreat for Rest & Rejuvenation
August 20-23 (arrival on Thursday, August 20 between 3-5 pm).
With Efrén F. Solanas
For more information or to register visit www.efrensolanas.com.
The Frequencies of Brilliance is a potent, sacred process with unlimited potential for healing and spiritual expansion. It is an energetic healing technique that has assisted many people in clearing physical, mental and emotional issues.
Efrén invites you to join him on a mindful journey towards a deeper embrace of the sacred. Celebrate summer with a three-day retreat devoted to meditation, six individual sessions of the Frequencies of Brilliance® and Soul Mandalas. All are welcome regardless of previous experience.
Efren is certified by the founder of the Frequencies of Brilliance​, Christine Day, and has been teaching courses in So. America, Europe and the USA for the past nine years. He is dedicated to sharing the sacred jewel o​f ​the work and honored by the opportunity to serve as a channel for transformational healing. Efrén's intention is to hold a steady, compassionate platform for each person's unique, divine journey back to full union with the Self.
The Wild Rowing Into God
A Special Collaborative Event between the Christine Center and Holy Wisdom Monastery
August 28-29, at Holy Wisdom Monastery, Middleton, WI
With Gail Worcelo, SGM (top left) and Gabriele Uhlein, OSF, PhD
Tuition: $220 includes Saturday lunch. Register online here.
Read this article, Wild Rowing Into God, by Gail and Gabe describing the benefits they want you to receive by attending.
Teilhard de Chardin predicted that a new kind of human would emerge on Earth, one attracted to the future and in touch with the impulse to reach out. Is this you? Is there a flame of urgency in your heart? Are you yearning to join in the great collective work of unleashing our hidden potential as a species?
Our Intention: To contribute to the evolution of humanity as we awaken to our divine humanity.
Friday evening: Cosmos – Discover the divine milieu as a participant in a grand cosmic emergence. 
Saturday morning: Consciousness – Embark on the quantum leap from "I" to "We." 
Saturday afternoon: Creative Union – Row with zest as we come to the edge where we can only go together.
Gail is a disciple of the late Father Thomas Berry, co-founded Green Mountain Monastery in Vermont. Gail teaches and practices Evolutionary Christianity through a variety of sacred modalities that weave spirituality with cosmology and ecology
Gabriele is a Franciscan psychologist, theologian, and artist whose work is in ecological, sustainable human deepening and evolution. Gabriele is a member of the Christine Center Leadership Team. Read more bio here.
Sound and Silence:  A Meditation Retreat with Gemstone Bowls and Sacred Chant
August 28-30
Cecy Corcoran, FSPA, PhD (left) and Wendy Kohlhaas
Tuition: $125.00, plus meals and lodging.
This retreat is a prayer of the heart intoned through simple chanting and the harmonic sounds resonating from gemstone singing bowls. The Sound and Silence Retreat will quicken your spirit as sound and breath allows for deep inner healing. Using the sound heard and sung  as prayer we revitalize our core energy and enter profound silence.
The program will alternate meditation sessions with Wendy toning the gem stone crystal bowls and meditation sessions in which Cecy leads sacred chants to move us into silence. Participants can build into their retreat the option of spiritual guidance, walking meditation, solitude and meals in silence.
Sound and Silence responds to the soul's hunger by inviting you into this place where stillness calls you. 
Cecilia is a member of the Christine Center leadership team and a long-time meditator. Read her bio here.
Wendy Kohlhaas has 26 years experience helping to restore balance, health and wellbeing in mind, body and spirit as an addiction counselor and nurse. Wendy continues to evolve her spiritual healing practice, Celestial Sounds, intuitively using gemstone crystal bowls, intention, tones and mantras.
Diamond Approach to Inner Work
September 3-6, December 10-13
With Carol Carbon.
To register: Johanna Seubert at j.seubert@tds.net or 715.267.7902.
The Ridhwan School is accepting new students for the Diamond Approach to Inner Work. The Diamond Approach is a path of spiritual realization characterized by sincere inquiry into one's experience, fueled by the love of truth. The immediate contact with the truth of our experience allows the unfoldment of our Soul to reach increasingly deeper levels of truth. Our work includes meditations, teachings, movement, and experiential exercises.
Carol Carbon is a senior Ridhwan teacher of the Diamond Approach. She has studied directly with A.H. Almaas, the founder, and she leads groups in Boulder, Colorado and the Upper Mid-West Region.
Yoga and Meditation with Andrea Russell
September 11-13
Tuition: $225, plus meals and lodging
www.andrearussell.com
Register directly through Andrea at info@andrearussell.com
Visit www.andrearussell.com
Come deepen your yoga and meditation practice. Learn ways to attune your practice to live in harmony with the seasonal transition from summer to fall as well as ample time for reflection, restoration and enjoyment of nature. Nature's cycles are mirrored within our own body and mind.
The fall season is an important time to nurture oneself after the high vibrant energy of summer, to ground and settle, in order to cultivate inner strength to maintain balance as the autumn winds of change blow. 
Included is yoga instruction, seated and walking meditation instruction, mindfulness practices, yoga nidra/guided deep relaxation, pranayama/breathing practices, as well as wisdom teachings based on yoga philosophy, mindfulness and Ayurvedic approaches to living in tune with the season.
Health and Inner Peace with Relaxation and Full Natural Breathing
September 14-15 (Monday-Tuesday)
With Roberta Hodges
Tuition: $95, plus meals and lodging.
Relaxation of body and breath releases the tensions caused by stress in your life. Healthful relaxation creates space within for peaceful spirit and life force energy to enter. Come learn many body and breath relaxations of varied length and styles that can be done while lying, sitting, walking or standing.
These techniques can be used in almost any situation where you find yourself in need of calming. Practices range from a one minute calming breath practice to the more lengthy Yoga Nidra practice of extreme relaxation.
Roberta has been studying, practicing and teaching yoga in the Himalayan tradition for 25 years.
Hilde-Fest 2015
Hildegard of Bingen: Her Way and Her Wisdom
September 18-20
With Avis Clendenen, DMin, PhD and Gabriele Uhlein, OSF, PhD
Tuition: $200 (If sliding scale or scholarship is needed, please inquire:
guhlein@tds.net
Early registration: $175 (ends August 15)   
This year our attention turns to St. Hildegard as spiritual teacher.  Let her challenge your soul to find voice, and allow her profound insight to embolden and fortify your own soul-path. Our featured presenter is Dr. Avis Clendenen, DMin., PhD.  Much loved by her students, Avis teaches courses in both pastoral and practical theology at Xavier University in Chicago.
Her latest book, Experiencing Hildegard: Jungian Insights into the Spiritual Vision of 12th Century Hildegard of Bingen reveals Avis' own depth of personal experience as soul-mentor and spiritual guide. Discover fresh, exhilarating ways in which the greening, vibrant light of the 12th century St. Hildegard can nourish and sustain a 21st century mystic clarity. '
We also celebrate Hildegard and her love of all things green. We will experience some of her favorite herbs and sample a few of her healing recipes for soothing and strengthening both body and soul. We will pray with her words and breathe with her music. Come immerse your soul in beauty, within and without! Painting of Hildegard by Gabriele. Read Gabriele's Hildegard story on our Web site here.
Relax and Renew Yoga Retreat
September 23-25 (Wednesday-Friday)
With Sue Redmond
Tuition: $90-$200, plus meals and lodging.
Come focus on relaxing, relieving stress, gentle restorative and yin yoga, walks in the woods, healthy home cooked meals and meeting new people. This retreat is appropriate for all levels of practice with a special focus on active older adults, people working on improving their overall health, addressing chronic pain and seeking a gentle relaxing practice. Meditation sessions at the center 7 am and 5 pm included.
Sue Redmond has practiced yoga since 1998, began her yoga teacher training with YogaFit in 2009 completing her 200 hour RYT. She also has a MA in therapy and has practiced social work since 1990.
37 Practices of Bodhisattva
September 25-27
With Susan Mickel, MD, PhD
More information: www.pointingoutway.org.
To register: susanmickel2@gmail.com
The 37 Practices of a Bodhisattva is one of a handful of the most important Tibetan Buddhist teachings dealing with cultivation of compassionate living while opening to the clarity and wisdom of the mind's nature in meditation. The format is instruction, guided meditation, and group discussion. No prerequisites.
Mahamudra: Meditation Taught in the Pointing-Out Style
September 27-October 4
With Susan Mickel, MD, PhD
For more information and to register see above.
In Mahamudra, a series of meditations helps to clear the veils that keep us from accessing our deepest wisdom, love, and compassion. The meditations begin with initial emphasis on concentration, followed by exploration of the constructed nature of ordinary perception, non-duality meditations, and non-meditation. With clearing of the obscurations, the mind's true nature is free to shine forth. The format is small group instruction, meditation, and discussion. 
For the Sake of the Christ
With Andrew Harvey
October 4-7 (Sunday-Wednesday)
Tuition: $250  plus meals and lodging
Visit www.andrewharvey.net for more on Sacred Activism.
Come open to the possibility that your heart will expand and you will  become inspired to walk a path of sacred action in the world.  Andrew teaches that when you open to your sacred heart, you become a vehicle for Divine Love, here on Earth. If you yearn for that deeper and richer involvement with the path of Christ and to live a more fully sacred life, this weekend is for you.
 Andrew Harvey is the founder of the Institute for Sacred Activism, acclaimed author of over 30 books, mystical scholar, and dynamic spiritual teacher.
Praise for Andrew Harvey
Every age has its teachers, who keep the eternal truths alive for all of us. And when a generation is very, very lucky, it encounters a teacher so illumined that the words he delivers must be illumined as well. In the case of Andrew Harvey, the light he sheds is like a meteor burst across the inner sky.  Marianne Williamson
Andrew is a brilliant, inspired visionary who has the ability to interpret the meaning of the chaos and rapid changes that are redirecting the compass of our contemporary culture. He is a spiritual, intellectual, and cultural mystic whose passion is to awaken people to a new and essential empowerment in this world: sacred activism. Caroline Myss
Intuitive Painting: Free to Paint from Soul
October 8-11; November 12-15; January 7-10 (Thursday-Sunday)
Daily 10 am-5 pm, including Sunday
With S. Gabriele Uhlein, OSF, PhD
Tuition: $40 per day / $20 for half days (materials included), plus meals and lodging.
Commuters Welcome: bring a bag lunch or purchase a lovely vegetarian meal for $15.
Visit www.michelecassou.com for information about Intuitive Painting.
Jumpstart your natural creativity in a fun and supportive community of happy painters!  (Come with a friend!) Just bring your painting apron!
Attend as much or as little as you wish.
Each day includes two creativity coaching sessions with S. Gabriele Uhlein.  For those who are staying overnight, there are optional evening sessions too. No previous art skill is required! If you are an artist, here is a chance to dare yourself to stretch into fresh creative possibility! Just bring your curiosity and willingness to deepen insight! All materials provided.
S. Gabriele trained in the intuitive painting method of Michele Cassou, and has over 30 years' experience in using art expression as a  personal contemplative practice. Her intuitive art studio provides a marvelous "judgement-free zone" for daring freedom, breaking old patterns and discovering fresh creative possibilities. Just wait till you see the studio walls! Gabriele is a member of the Christine Center Leadership Team. Read Gabriele's bio here.
Read Gabriele's article on the Exhilaration of Intuitive Painting on our blog. Watch this inspiring video.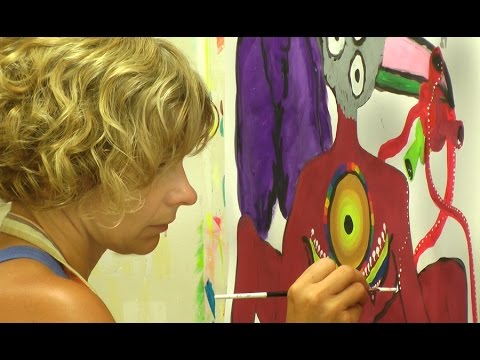 Music from Mother Heart by Susan Lincoln, a St. Hildegard vocal artist. Visit Susan's website here. In 2013 Susan co-facilitated with Gabriele our second annual St. Hildegard Festival. It was a weekend of joy!
Introduction to Yoga and Meditation
October 16-18
With Bill Miller and Cecilia Corcoran, FSPA, PhD
Tuition: sliding scale $75-$150, plus meals and lodging.
Come learn the beginning steps of these ancient practices in a supportive, comfortable, and beautiful space. Yoga is a way to balance and ease stress. Meditation helps you to find peace, healing and renewal. Give yourself the gift of a life lived in greater harmony. Bill is a retired police officer and criminal justice teacher. Cecilia is a member of the Christine Center leadership team and a long-time meditator.
Yoga with Tara Cindy Sherman
October 16-18
To register: treespirityoga@gmail.com
Yoga Nidra: The Healing Power of Extreme Relaxation
October 19-20 (Monday-Tuesday)
With Roberta Hodges
Tuition: $95 plus meals and lodging. Begins at 2:00 p.m. Monday.
Yoga Nidra is the most powerful relaxation technique known. It means conscious deep sleep. Experience supreme relaxation of body and the most profound stillness of mind. This transforming, deep, blissful state of consciousness is the perfect condition for physical and emotional healing. It is helpful in treating diseases and exhaustion caused by stress.
Roberta has been studying, practicing and teaching yoga in the Himalayan tradition for 25 years.
Aging into Higher Consciousness:  Awake the Potential to Shape Aging
October 28-30 (Wednesday-Friday). Begins at 7 p.m.
With Delmarie Gibney, FSPA (left) and Lucia Leck
Tuition: $150, plus meals and lodging
 Join us in exploring aging as nature's way of luring us deep into the discovery of who we are, bringing us to the pinnacle of our personal and spiritual development. Hosted in the spring of the year when life is being coaxed into new beginnings, this workshop is designed to actively engage us in shaping our own aging process, instead of passively drifting into old age. During this interactive workshop, we will awaken to new ways of engaging in our aging process, including life review, forgiveness work, issues surrounding our mortality, and the essential role of spiritual development in our later years, including serving others and leaving a legacy.
Delmarie Gibney, FSPA holds a Doctorate of Ministry from the Episcopal Divinity School in Boston. She brings an abundance of skills from her many roles in life, including 18 years as director of WomanWell. Currently she is one of the facilitators for the Spiritual Direction Formation Program at Wisdom Ways, as well as facilitating discussion groups dealing with a variety of topics aimed to deepen participants' lives. She says, "To be an elder in the 21st century holds great energy and excitement for me."  
Lucia Leck holds a Masters degree in Adult Education from Northern Illinois University. She is a graduate of WomanWell Spiritual Direction Program as well as being certified as a Sage-ing Leader from Sage-ing International. She has co-facilitated workshops on aging around the Midwest. She loves to share her passion for consciously living and aging.
Writer as Shaman
October 30-November 1
With Bridget Birdsall
Tuition: $150, plus meals and lodging.
For writers of all levels who long to transcend the world of everyday realities and immerse themselves in the mystical worlds of their muses. Learn to let go and delve into your inner worlds to access your own deep resources, especially those hidden from our conscious awareness. It is about creating a sacred space conducive to inner play and about cultivating our imaginations and sharing our stories. Most importantly, it is about accessing the power of words to transform our lives. All you need is your journal.
Bridget is an author, artist, teacher and speaker. Bridget believes that by writing our stories we can access the higher wisdom within our soul.
Intuitive Painting: Free to Paint from Soul
November 12-15; January 7-10 (Thursday-Sunday) See October 8-11.
Daily 10 am-5 pm, including Sunday
With S. Gabriele Uhlein, OSF, PhD
6th Annual Uplift Yoga Retreat
Practical Yoga for Interesting Times
November 13-15 (begins Friday at 5:30 p.m.)
with Kate Karshna
Early bird registration starts July 13 and ends September 13.
Here are registration details: 2015 Uplift Yoga Retreat Flier.
For more information or to register visit www.upliftyoga.com or email Kate at upliftyoga@gmail.com. 
Yoga is not something we "do" but rather something we are. It can touch all areas of our lives. Our yoga practices may consist of meditation, asana, mantra, observances, ritual, devotion, study or any combination thereof, depending on the day, time, season and individual. Join us this weekend as we explore the many practical ways to engage in the life-changing wisdom of yoga, applied to your own unique circumstances.
All classes are appropriate for all levels. 
Kate Karshna is a Twin Cities-based yoga and meditation instructor with 500 hour yoga training certification from the Yoga Center of Minneapolis.
Intuitive Painting: Free to Paint from Soul
January 7-10 (Thursday-Sunday) See October 8-11.
Daily 10 am-5 pm, including Sunday
With S. Gabriele Uhlein, OSF, PhD
Christian meditation

Buddhist practice

Writing as spiritual practice

Christian mystics

Intuitive painting

Yoga

Jungian dreamwork

Sacred dance

St. Hildegard of Bingen annual festival

Mandala-making

Diamond Approach

By Women for Women

Kindness Meditation

Three-year Certificate Program
HOW TO PLAN YOUR STAY AT THE CHRISTINE CENTER