By Women for Women:
Our Annual Circle of Women Gathering

May 5-7 (Friday-Sunday)
$240, plus meals and lodging
The By Women for Women Retreat is offering an incredible collaboration of facilitators bringing a weekend of relaxation and empowerment for renewed energy. The weekend is beautifully designed to support women coming together in community for hands-on learning of tools ranging from Qigong, Nia Dance, sound bathing, gentle yoga, meditation, poetry, gratitude journaling, connecting with nature, and more – including an opportunity to win an hour-long massage.
Experience being fully supported in large group gatherings as well as options for small group learning circles as you choose offerings that create the weekend which best supports you.

By Women for Women is annual event held at the CC with the goal of bringing women together to share their gifts and create a circle of connection with one another. This is also a fundraising event for the center so all facilitators have generously donated their time to bring this offering. Thank you!
Enjoy the connection with the sacred Christine Center in a community of like-minded women.
Women's Gathering Circle
Friday:
Opening circle, meet your facilitators, sound healing, meditation
Saturday:
Morning gentle movement and meditation
Gratitude Journaling
Qigong
Yoga Nidra/sound bath
The river of what is…
Sunday:
Morning gentle movement and meditation
Nia dance
Neurosculpting
Saturday Personal Choice Offerings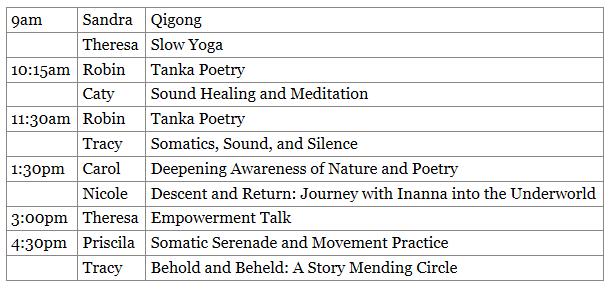 Our Guides for the Journey
Robin Richards, MA, EdS, RMT
Robin is a Wellness Teacher and Health Coach who merges science with 'woo-woo' to teach women wellness tools in all seasons of life. With two decades of professional experience as a teacher and coach, Robin delivers mindfulness, meditation and Reiki teaching that empowers healing and transformation. Robin found her way back to health in the process of healing mental illness, addiction and autoimmune disease, by balancing conventional science of the West with ancient, Indigenous practices of the East. When you are seeking a teacher who meets you exactly as you are and provides immense inspiration and support on your personalized journey – you want Robin as your teacher and coach. Learn more at www.robinswellnest.com.
Theresa Marie Falvey
Theresa, owner of State of Grace Well-Being, is a wayfinder, a beacon of opportunity and possibility. As a Life Coach (Yoga Instructor, Reiki Master, Neurosculpting® Meditation Facilitator) She helps people live happier, healthier and more fullfilled lives. Assisting them find "home" within themselves via working with the mind|body alignment and integration. Whether with a 1:1 or leading an event/class, Theresa has a magical way of welcoming both fun and peace into the space who she shares it with.
Sandra Mighell
Sandra is a Certified 1st Degree Black Belt instructor in the Nia TechniqueTM, Organ Cleansing (Medical) Qigong and Dr. Lam's Sun Style "Tai Chi for Arthritis and Fall Prevention." Sandra has been sharing her movement practice since 1999 in yoga studios, recreation/community centers, YMCAs, gyms, spas, pilates studios, government facilities, corporations and in countless private and small group venues. Sandra brings to her classes a sense of personal safety, real comfort and vibrant joy in the body.
Caty Brown
Caty is the owner of Soul Body Finesse, a Sound Healing studio in Minneapolis that specializes in therapeutic group healing experiences that reawaken the soul and senses. Caty is a Sound Healer, Reiki practitioner, labor & birth doula and mother. She curates events and healing experiences for individuals, groups and businesses. It was through radical self care and holistic therapies that allowed me to heal and align with my Soul's purpose of creating safe spaces for people to connect, heal, share and grow together. I enjoy intuitively connecting with others by supporting self care practices to stimulate growth, inner peace and self acceptance. I have a passion for serving and empowering women, mothers and all people to heal during difficult transitions in their lives.
Priscilla Momah
Priscilla is a multifaceted wellness practitioner who weaves together her unique offerings into immersive Soulful Embodiment Experience. These practices interlace Somatic Movement, Yoga, Reiki and Thai Bodywork coupled with live music, to create a foundation for healing on both an individual and community level. Made accessible to all levels these Soulful Embodiment Experiences offer a space to lean into the direct felt experience of the present movement through the art of receiving. Her music stylings are a unique form of empowering vibrational melodies that are intentional in opening up the heart space. Rooted in unconditional love and self compassion her lyrics and songs are a gateway into a realm of inner nourishment fusing Soul, R&B, folk, hip hop and movement into a unique sound and healing journey.
Heather Simmons
Heather is a Madison area massage therapist with over 20 years of experience. She attended Blue Sky School of Massage and Therapeutic Bodywork and provided massage at UW-Madison for over 10 years before branching off into her own practice. It is her true calling to help people heal themselves and she is honored to be able to intuitively hold space for people in their bodywork sessions and help them reach a deep sense of peace and relaxation. Heather is a friend of the Christine Center and periodically provides bodywork for guests and thoroughly enjoys every minute there, sometimes going there for private retreats as well. Brandi, a very sweet rescue pup and therapy dog, often assists her in her sessions and has a very calming presence. She is very excited about participating in the annual By Women For Women fundraiser. In her spare time, she enjoys spending time in nature hiking and snowshoeing around Wisconsin and the U.P. and is a big lover of music and dance. She enjoys connecting with new people and looks forward to meeting you!
Nicole Duxbury
Nicole believes deeply in the power of intention, cultural healing and wellness, healing in the presence of others and most of all, the grace of True Nature. Nicole has been a student of spiritual realization with the Diamond Approach since 2012 and recently completed a 2-year mindfulness meditation teacher training with Tara Brach, Jack Kornfield and many other guest teachers. She works as a therapist with Anam Cara House.
Tracy Chipman (she/her/they)
Tracy resides in Northern Wisconsin on Anishinaabe lands. She weaves the ancient rivers of storytelling, somatic yoga and peer-based mentorship practices, creating meaningful & unforgettable experiences, inviting us all towards greater connections, transformation & wholeness. Her first ever book, BOREALIS MUNDI – resting in place, loss & grace, will be published in the spring of 2023. www.tracychipman.net
Carol Bezin
Carol Bezin has facilitated workshops on the "Virtues Project" and "Gratitude" in Central Wisconsin. She has a Master's Degree in Education and has worked with Necedah Wildlife Refuge to provide nature education for children. She is a Reiki Master Teacher. She writes nature based haikus and has practiced meditation for fifty years.