The Hildegard Soul-Studio for Creative Art and
Ritual is an inviting and comfortable space for
your creative adventure.
Nurture You Intuition and Creativity with a 
Christine Center "Anytime" Retreat Program
With S. Gabriele Uhlein, OSF, PhD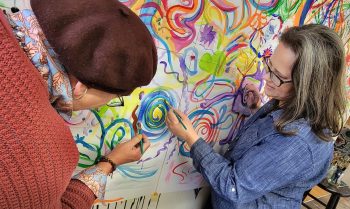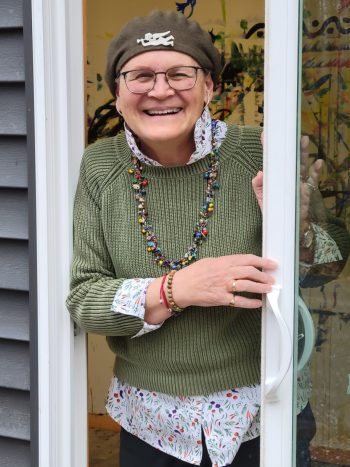 Schedule a personal creativity experience with S. Gabriele as it fits for you, perhaps as part of a private retreat for spiritual exploration or as precious time for play and relaxation. The day(s) can be designed to resonate with your own pace. S. Gabriele will be available for personal intuitive painting guidance and conversation as needed throughout your time in the studio.
Everything was wonderful!!! The staff were welcoming and very kind. Sister Gabe was insightful, kind, and all around wonderful. She made me feel comfortable, which allowed me to open up and lay down my woes, and open my self to spiritual guidance. The overall experience was amazing and I will visit again
Creativity Menu and Prices: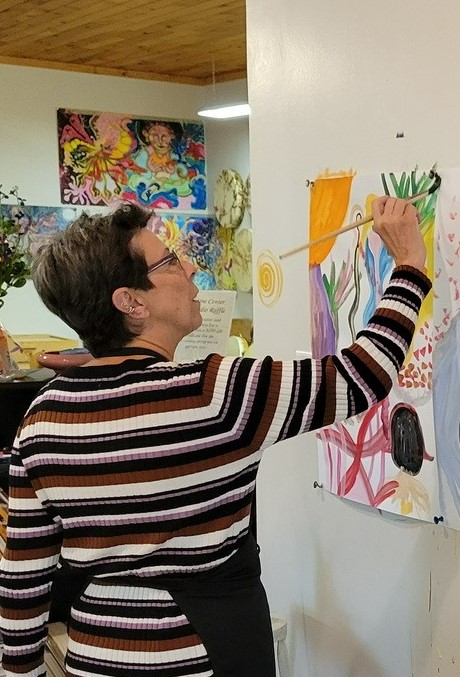 Incredible stay, as always. This was my first time using the art space and it was beautiful!!! So much space to create without worrying about making a mess! I was in heaven, and having the space to myself was an extra treat!
Art Studio – $20 for half day, $40 for full day
Use the studio and any wet or dry materials on hand for up to 4 hours $20, or 4 or more hours $40. Please record your usage on the supplied form and pay at the front desk before departure.
Art Box Rental – $20 – to use throughout your stay
Personal Hilde-kits that include a set of colored pencils, markers, and watercolors available for use in your own accommodation, out of doors or in the studio. In the event the box is not returned you will be billed a $50 replacement fee. You can also purchase individual choice of art materials directly from the bookstore, and of course take them home with you.
Creativity Coaching – Hourly guidance/instruction from Sr. Gabriele Uhlein, Artist in Residence
Personal visit with up to 3 individuals – $100 per hour, 4-12 persons – $160 per hour (includes supplied materials). Scheduling prior to your visit is advised. Please record your use on the supplied form and pay at the front desk before departure.
Personal Ritual Making:
Access to ritual making materials (books/cards/paper; herbs/spices; incense/essential oils) Same price as use of studio ($20 1/2 day, $40 full day)
Personal drum for guest use during your stay $10. Drum can be taken to hermitage for personal use. Please treat drums with respect. Keep drums dry. Do not use in the rain.
Large "mother-drum" (for up to 4 persons) $30. Mother Drum cannot be moved from studio.
Private ritual consultation and spiritual guidance is available upon request. Phone in for reservations or inquire at front desk. Call 715-267-7507 to schedule amazing personal studio time!
Studio Rental
Group rental with all materials: $300 per day. This is for use of the whole space, including art materials (wet and dry) and use of the fireplace. Reservations are normally required. Spontaneous use can be requested at the front desk. Creativity Coaching, including leading a drumming session is additional.
Group rental without materials: $200 per day. This is without the use of art materials, but including the use of drums and fireplace. Reservations are normally required.